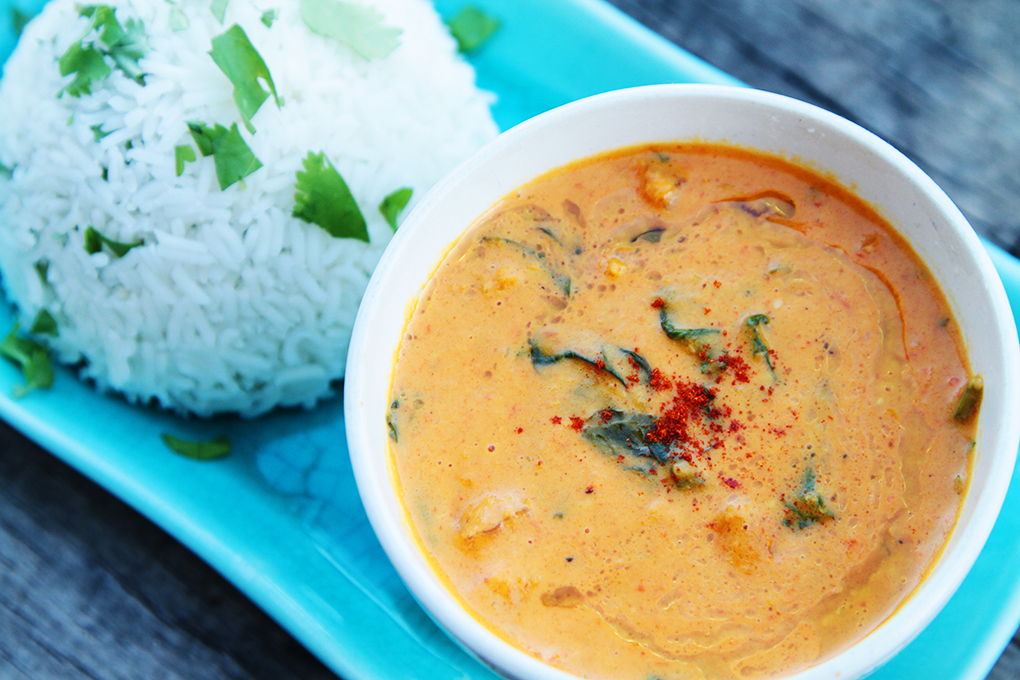 Vegan curry of roasted peppers
In the little Dutch town where I grew up, there was, and still is, this one and only Indian restaurant, called Taj Mahal. We often went there for dinner on sundays, with friends of my mother, my brother and I. I can't remember that is was ever not nice. I loved it!
I always ordered the same dish, first butterchicken, later butterchicken without chicken, which was amazing! Little dishes of korma's with lentils or mushrooms, saags, the naan bread and the vegetable dishes with potatoe. I developed a great love for Indian food, which goes so well with being a vegetarian. If someone would tell me this was gonna be it for the rest of my life, it would give me a smile for ever!
Now, when I go back to Holland for a visit, we still often go to 'The Taj' as we came to call it. And it's still the very, very best Indian restaurant I have ever been to. I've tried many others, mostly in Amsterdam, but also in LA, and even in Ibiza, but it's never the same.
And yes, I have been making them myself as well, or at least I have been trying, as it probably is this secret missing ingredient which makes it impossible to match The Taj's taste. But in this ongoing search for the ultimate curry, I stumbled upon a recipe, originally from tartes-and-recreation.com. The interesting part of it was that she used an ingredient I'd never heard of. It's nutritional yeast. "Nutritional yeast is a deactivated yeast, often a strain of Saccharomyces cerevisiae, which is sold commercially as a food product," Wikipedia says.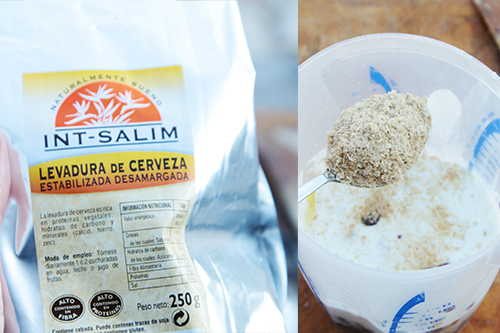 But nutritional yeast also has several benefits. One big benefit of nutritional yeast is that it's often high in B12, an important vitamin that much of the population is deficient in. And especially for vegetarians or vegans, it's very important to get this vitamin from other sources than meat.
Aside from B12, nutritional yeast is also a "complete protein," it contains other B vitamins, is low in fat and sodium, is free of sugar and gluten, and contains iron. And the good thing is, it goes well on almost everything! It's a bit like parmesan cheese, nice and salty!
I can honestly tell you that this curry is by far not the one you will find at The Taj, but it's a damn good attempt, and you'll even gain some health benefits from it! Worth trying I would say!
Here below my slightly adapted version.
Ingredients:
2 large red bell peppers
5 tbs of olive oil
1 red onion, diced
3 cloves of garlic, diced
1 pinch of sea salt and freshly ground pepper
400 ml coconut milk
4 tbs nutritional yeast
2 tbs cornstarch (Maizena)
1 tsp of chili powder
1 tsp of turmeric
300 g chickpeas
2 cups of spinach
2 large tomatoes
Directions:
Cook the rice as directed with some salt.
Preheat the oven at 220°C, wash the bell peppers well, and place them in a dry baking dish, and bake them for about 30 minutes until charred.
When they are ready, peel off the skin, seeds and stems, and set aside.
In the meantime, dice the onion and garlic
Heat the olive oil, and stirfry the onion and garlic until soft and light brown. Add salt and pepper.
Mix the peppers, onion and garlic, coconut milk, nutritional yeast, cornstarch, the chili powder and turmeric until smooth. If needed season some more with salt and pepper.
Transfer to a skillet, add the chickpeas, spinach and tomatoes and simmer with a closed lid for 15 minutes on low heat.
Serve with the basmati rice