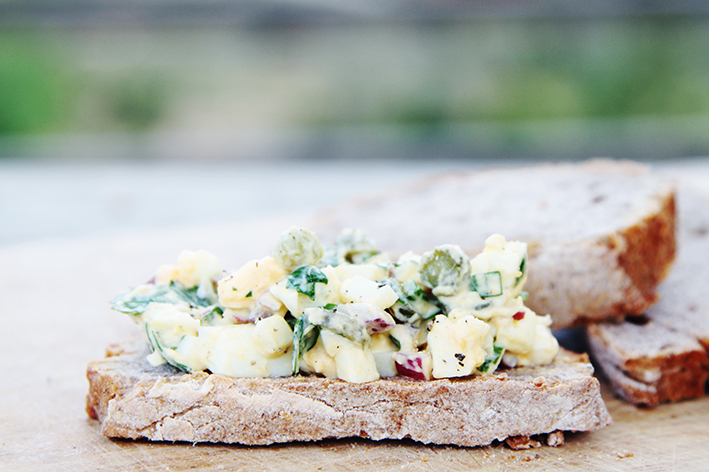 The very best egg-salad
Over the years I have been cooking so many dishes and have been trying out just as many new
one ones. Some were alright and some just 'muah'. But sometimes you just accidentally come up
with a recipe that turns out to be amazing and sticks forever.
Like those pasta dishes, for example, I've been making for years. They are just good, always,
period. Whenever I'm not in the mood for trying out something new, to be creative or when I'm
just in a hurry, I can always crab one of my old recipes, and be sure everyone in my family will
be satisfied. This past summer my best (red-headed) friend came to visit us for the first time in
Ibiza with the rest of her family, for two weeks! It was so good to finally have them here, all
together, united again. Her kids are my kids' best friends, and we have been going on holidays
together for years. And it always is the same when we are together: we just think about food,
all day. About breakfast, lunch and dinner. And of course about snacks, wines etc. Especially
wines!
For many years we have been going to the south of France where we had this ritual of 'the
men' driving down hill to get some 'baguettes' for breakfast, from the local boulangerie,
(and the bakers wife!!) as we, the women, were setting the table. (How cliche!) French bread,
the best fresh mayonaise, big red tomatoes and boiled eggs. Pff, those were the days!
So here in Spain, the first morning we woke up together, we continued, as always our
breakfast ritual. Even here, the men had to drive down hill to get some freshly baked bread,
(no bakerswife included this time, bummer!!) as Nanda and I would go into the kitchen to
prepare the tomatoes and eggs, we'd bought the day before.
And than it happened. Suddenly and un-expected! We actually came up with something new!
OH MY GOD! How was this even possible?!! WHY??
Somehow we managed to change our old ritual and made the best-ever-egg-salad-on-earth!!
And we kept on doing so for the rest of the weeks we spent together. Everyday a freshly made
egg-salad, and everyday a little better. One of the easiest things to make, but probably on the
list for the rest of our lifes. Wouldn't it just be great when our future grandkids will be asking
for 'grandma's exquisite egg-salad'? :-)
INGREDIENTS: Egg salad for a whole family, and more!
8 medium sized eggs
2 hands of freshly chopped parsley
Half a red onion
about 20 small pickles, or a large handful
3 tbsp of organic mayonaise
2 large tsp of Dijon mustard
Seasalt and freshly ground pepper
Directions:
Use organic eggs. Not only for your health but also for the chickens they came from!
Fill a pan with cold water and a tsp of salt and add 8 eggs. Put on the fire and set your timer for 12
minutes. Or, until boiled hard.
Use the leaves of the parsely, and a a bit of thin stems.
Chop finely.
Slice up the pickles
Dice half the onion
Combine all in a bowl, and add the mayo
Add the mustard
Use an egg cutter or just cut the eggs into small pieces
Combine all and add salt and freshly ground pepper to taste!
Done! That's it! Now enjoy for the rest of your life! :-)