Super Veggie Burger!
Tomato, tomato!
Enthousiastic burger eater as I am (not!), I found it a great challenge to make a typical veggie burger for this nice contest Heinz tomato ketchup came up with. It really might be worth considering sending your own special burger recipe to the link below. The well known Dutch chef 'Ron Blaauw' of the eponymous restaurant in Amsterdam, is, together with Heinz looking for the best homemade burger, to add it on the menu of his restaurant 'Ron's Gastrobar' in Amsterdam. The announcement will be made at a major final event. Just think of it; your own incredibly tasty super duper (veggie!!) burger on the card! Wouldn't that be something? Enter the contest and place your burger on the menu!

Talking about burgers; I remember this evening when I was in Paris with a friend of mine – it probably was just before we went back to our hotel, and had enough to drink –  when we dicided to just quickly ran into a Mac Donalds to eat some fat, greecy stuff before going to bed. (Yes, I know, very, very healthy!) Though, I already was a vegetarian and happily enough still capable of ordering a veggie burger. I should have known better. The ordinary hamburger, without the 'hamburger' really gave us a good laugh. I just had two squishy white buns, with the regular pickle, sauces and slice of tomato on it. No burger of any kind. It was ridiculous, but it must have been the French version of a veggie burger at the time!
Anyway, with my friend and co-burger-tester-for-a-day Andrea, I decided to make an awesome veggie burger which didn't only taste amazing, but also looked as it wanted to be eated! A great, guilt-free vegetarian burger wich actually ís healthy and even easy to make. With a nice piece of wholesome spelt-bread, goatcheese and a juicy grilled portobello as 'meat bun'! Yes ma-am, that's what sounds tasty to me! And to top it all off; a baked egg, grilled asparagus, homemade parsley chimmi churrie and of course: ketchup! Ha! Did you know that ketchup is actually not bad for you at all? Ok, they might have add a little suger, but soit, it also really has some benefits for you too. Because ketchup contains high amounts of lycopene, a powerful antioxidant which is found in tomatoes and which is additionally created when tomatoes are cooked. (Unlike other fruits or vegetables, which, when cooked, lose some of their nutrients.)There you go.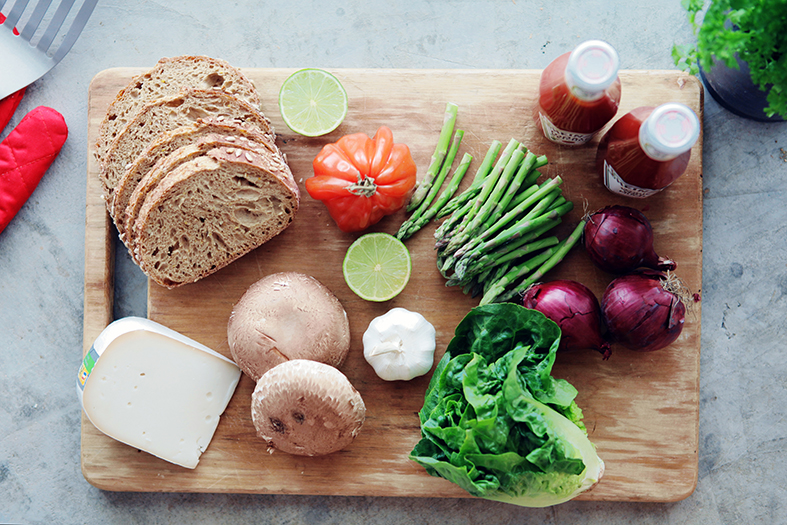 Ofcours, making your own ketchup might be healthier, but come on.. eating a burger without the real stuff? And besides that, it's a time cunsuming dirty little job too! So. We are going to make a burger, and we really don't mind adding ketchup on top of it. Lots!! Enter the contest and place your burger on the menu!
Get inspired below, or just enjoy eating this very good burger!
Ingredients for a Super Veggie Burger: (for 2)
4 slices of thick fresh spelt bread (or a bun if you prefer)
4 portobello's
bit of olive oil
little bit of organic mayonaise
4 fresh leaves of little gem lettuce
1 heriloom (or any other kind of a big fleshy) tomato
Bunch of little green asparagus
1/2 red onion
3 or 4 slices of (hard) goatcheese per burger
Homemade Chimi Churrie sauce (see below)
Heinz ketchup!
2 eggs
freshly ground pepper and course sea salt
Ingredients for the homemade Chimmi Churrie:
1 full plant of fresh parsley
4 garlic cloves
1 cup extra virgin olive oil
1/4 cup of water
Juice of 1/2  lime
Zest of 1/2 lime
2 tsp of course seasalt
freshly ground pepper
Just mix all the above into a smooth sauce
Directions for making a super veggie burger: