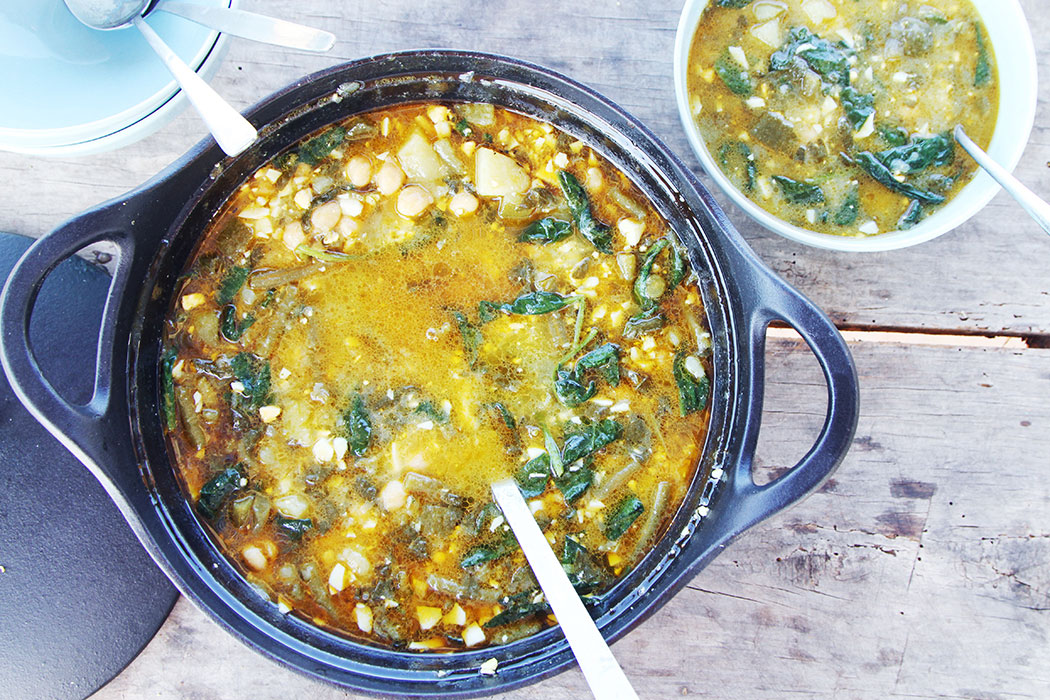 Soppa del dia
Una Soppa del dia de Ibiza
The fact that Veggie was on hold a bit, or a lot actually, was not because of a lack of my interest, or even inspiration.. not at all! But mainly because we decided to move from Amsterdam to Ibiza with our three kids, three horses, dog and a cat.
So, yeah, where do you begin telling a story, when you want to cover the past 10 months? Right at the beginning I guess.  It just took a little bit longer than I expected, tot get a hold on things again, to mingle in, to find my way, to learn the language, to find the good stores for my particular ingredients, to cook, etc. Not that it's been hard, absolutely not, just different. And you have to somehow find your rhythm again. Slowly but surely we all found our way in our new life. Instead of the tremendous feeling of being on a permanent holiday, we slowly came to a more realistic regularity of work, school, and fun at the same time. Life just changed dramatically, but in a very good way.
Our decision to move to Spain, Ibiza, was because of the fact that we always have loved the island and that we also wanted to give our kids the opportunity to grow up in a different country, to learn more languages, and to experience this adventure. Before we couldn't anymore, actually, since our oldest son was already 13 years old. But we also love the temperature, the amazingly beautiful environment, to live mostly outdoors and to enjoy the majestic nature.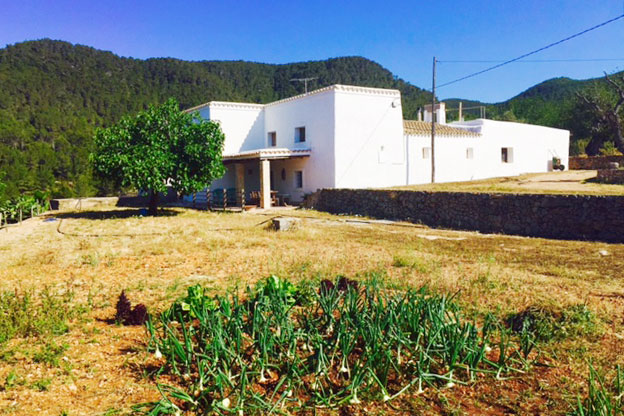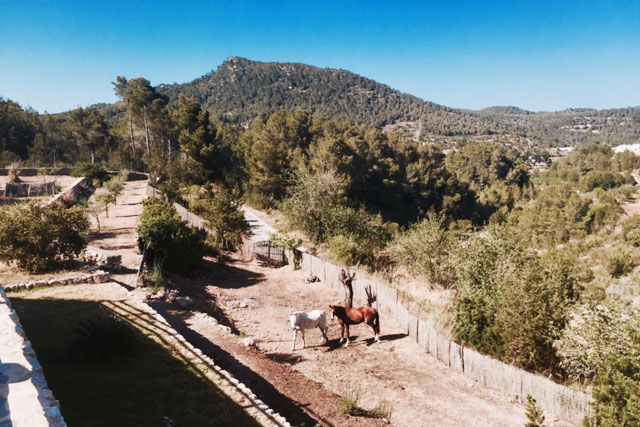 Our kids grew up in a city, and although it had its charms, we thought it would be time for a change.
We found this amazing finca (very old typical white Ibicenco house) in the north of the island, with so much land around it, that we could easily have our horses in the backyard, instead of in stables, miles away from our home. We could grow our own vegetables, something I have been aiming for for years, and what we are actually doing right now. And we could enjoy life outside in the sun instead of inside, on the 3rd floor of an apartment building in the middle of a city. So yes, the choice was easy, and not too surprisingly, also for our kids. (Of course I have to say, that getting a pool makes all decisions easier! :-) )
Although I sometimes miss my mom, my family and friends, they often come and visit us, and I also go back to Holland now and than for photoshoots etc. Honestly, I think we couldn't have made a better decision!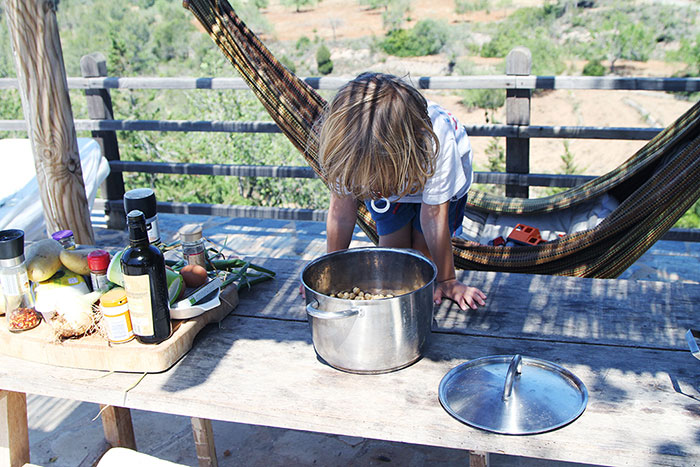 Our little one of three (they go to school in Spain when three years old, hurray!!) goes to school in the nearest little village. It takes us about an 8 minute drive through the mountains, to bring him there every morning, and to pick him up again at two. (Happily our two eldest, who are both in high school now, are being picked up, and brought back again by the public school bus!)
Anyway, this is how it goes: we start working at about 09:30, when little Wolf is in school. And we pick him up again at two. Most of the time my husband is already in the village because we have a little office there, since the internet connection at the house isn't something to celebrate. So, I go down, we meet at the local restaurant and eat a 'soppa del dia', the soup of the day. (Except on Tuesday, when there's fish in it, which I obviously don't like). Anyway, my absolute favorite is the chickpea soup with spinach and potatoes. A traditional Spanish soup, which they call 'potage de vigilia'. After eating it so many times I wanted to try this at home, to get the ingredients right. But than I figured it would just been as easy to ask the cook, the mom of a Spanisch family who runs the restaurant for 3 decades now. And I guess, because of my enthusiasm every single day after eating one of her amazing soups, she was willing to tell.
So here it comes, a family secret, and one of the best soups you'll ever eat!
PS: Please forgive me, that the style, the kitchen and the environment you where used to, when looking at Veggie Very Much has changed. You'll now have to settle for this outside kitchen, some mountains and a lot of sun! :-)
Ingredients for a big family pot
2 medium sized onions
1,5 tsp grounded curry
1 tsp grounded paprika
0,5 tsp grounded kurkuma
0,5 tsp grounded cumin
1/3 cup of extra virgin olive oil + 4 tbsp extra
3 eggs
2 zucchini's
2 large potatoes
3 large garlic cloves
300 gr spinach
800 gr pre-soaked chickpeas, presoaked or leaked
200 gr green beans / haricots verts
3 vegetable stock tablets
1,5 L water
3 tsp salt
freshly ground pepper
Directions