Savoury quinoa & Kale pie
Quinoa and Kale, a love story
I read somewhere, I believe it was on Food52, that quinoa and kale were made for each other. I couldn't agree more. Since Gwyneth Paltrow decided It was All Good, and created the loveable and super simple quinoa and kale recipe, topped with a fried egg, I have been eating this combo daily. (The only said thing, is that quinoa is getting ridiculously expensive, have you noticed? I might consider to start a quinoa farm!) It's just one of these recipes you can wake me up for at night without risking your life. But also nutritional wise it's a wonder seed, packed with all the goods you need. Quinoa is one of the most protein-rich foods we can eat. It's a complete protein, containing all nine essential amino acids. So especially for vegetarians or vegans it's actually indispensable. It's also high in iron, lysine, magnesium, riboflavin (B2), and the antioxidant manganese which helps protect red blood cells and other cells from injury by free radicals.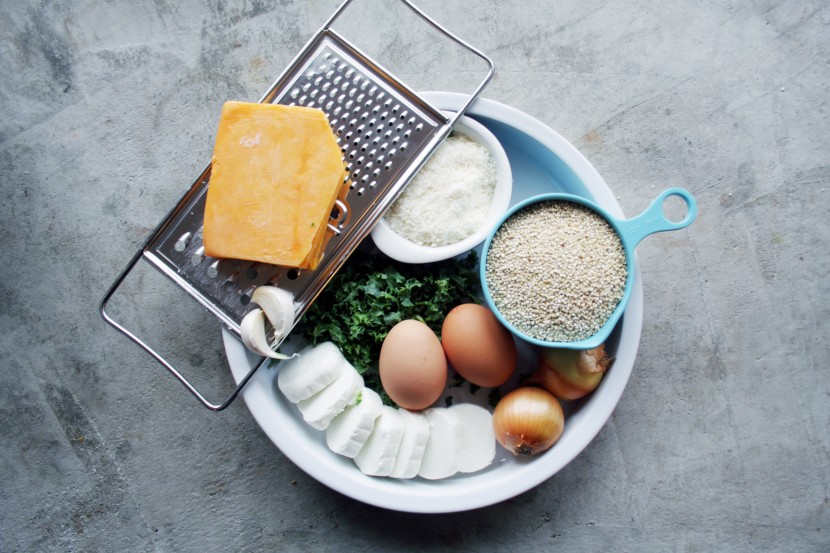 And although quinoa is not a grain (we do eat it as any other grain) it contains almost twice as much fiber as most other grains. It's a true superfood, and besides that, incredibly versatile. Though I think the combination with kale is the best ever, have you ever tried mixing it with some extra virgin olive oil, raw cherry tomatoes, avocado and chili flakes? A-MA-ZING. True. You can mix almost everything with quinoa, and it's always good.
But now I wanted to do something different. Put it in a pie for example. I used to love baking savoury pies. And just as with quinoa, you can vary greatly with it. One of my favourites was the original (meatless) quiche Loraine, until, of course, I decided not to eat (white) flour anymore, or cream made of dairy, for that matter. So yes, when the main ingredients of those pies, all seemed to be high on my to-get-rid-off-list, quiches were never made again. Until now. It seems pies don't necessarily need a crust! If only I had known before!
I started experimenting on a crustless quinoa and kale pie, which got a bit dry the first time, but absolutely amazing the second. I used organically soy cream, added a few more eggs, and three different cheeses. It was the perfect trick to keep it nice and moist.
My two-year old helped me out there, and together we made this new savoury pie, I secretly had been waiting for all along. This super simple recipe is not only tasty, it's also very healthy, and breakfast, lunch, brunch ánd dinner proof!
INGREDIENTS

for a Savoury quinoa & kale pie

1 cup of quinoa (2 cups of cooked quinoa)

2 medium sized onions

2 garlic cloves

4 tbsp of olive oil

200 gr. (about 8 ounces) kale, cut

6 eggs

225 ml / 1 cup of organic soy cream to cook withWatch Full Movie Online Streaming Online and Download

1/2 cup of cheddar cheese

1/2 cup of Parmesan cheese

a bit of butter or olive oil to grease the baking tray with

125 gr. (4 to 5 ounces) soft goat cheese

chili flakes (optional)

chili-oil (optional)
DIRECTIONS

for a Savoury quinoa & kale pie