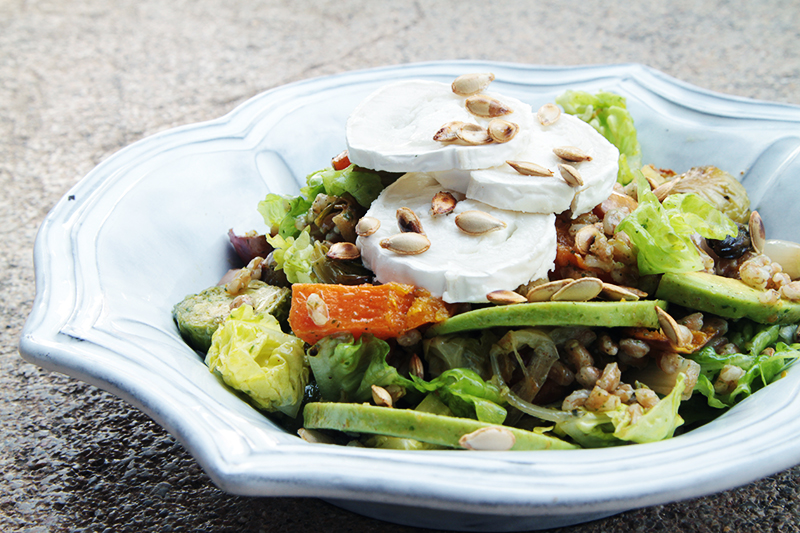 Roasted pumpkin salad with farro
To be honest, I am not the greatest fan of pumpkin recipes, (except for a great soup with coconutmilk and lime, which I promise to make soon, if you can handle one more P** recipe) especially not when everyone is bombing you with it online.
But the thing is, they literally lay everywhere, and it feels kind of stupid to ignore them, just because it's an autumn hit, and I have an explicit principle against over-populair things. So yes, I bought one. And I bought some Brussels sprouts too, which laid next to them. The first thing that came into my mind was: my kids probably will hate me. But the second was: who cares. Whatever I make, there is always at least one complaining, so don't bother, just buy the thing and bake the hell out of it! And so I did. You can imagine it was a great challenge. Because I also had to convince myself this was actually a good thing!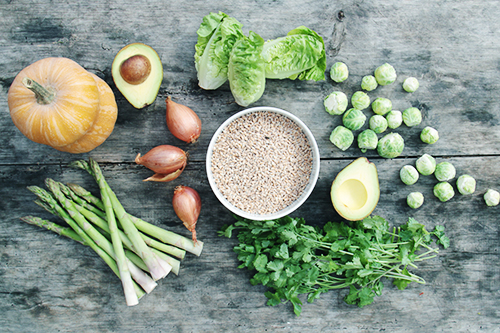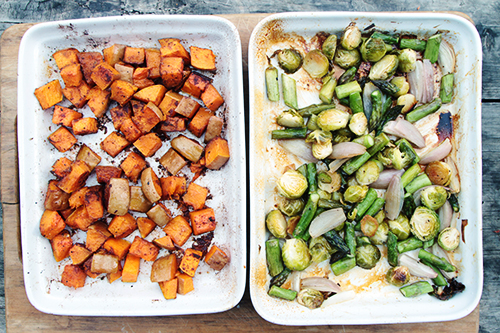 I roasted it with a bit of olive oil and cumin, which was not bad at all! And also the sprouts got in that oven, and alltogether I must say, turned out to be quite allright! So if you haven't thought of your spooky halloween dinner tonight, I guess it won't be hard to find the ingredients for this easy tasty farro-salad recipe! With roasted pumpkin of course! Enjoy!
Ingredients for 4-6 persons
The Salad:
500 gr. of cleaned pumkin (about half a pumkin)
250 gr. of cleaned Brussels sprouts
1 bunch of asparagus (about 250 gr)
4 shallots
300 gr. farro (uncooked) (or spelt)
1 avocado
3 little gem letuce heads.
8 tbsp of olive oil
1 tsp cumin
Soft goatcheese (optional)
Ground black pepper and course sea salt
The cilantro vinaigrette:
30 gr. cilantro
1/2 cup of extra virgin olive oil
1/4 cup of lemon
2 tsp of Dijon mustard
1 tbsp of good quality organic mayonaise
1 tbsp of honey
1 clove of garlic
1/2 tsp of salt and ground black pepper
Directions:
Pre-heat the oven at 160C.
Cook the farro as directed with a tsp of salt.
Cut the pumkin in half, and take out the seeds. Set aside to use them later (optional). You don't need to peel it.
Than slice it and cut it in cubes of appr. 1,5 cm
Add 4 tbsp of olive oil in a baking dish, add the pumpkin,
Add the cumin, salt and pepper and mix well before you place it in the oven.
Use a new baking dish for the Brussels sprouts and again add 4 tbsp of olive oil.
Clean the Brussels sprouts and cut them in half, add them to the baking dish.
Clean the asparagus, cut them in pieces of appr. 2 cm and add them as well.
Cut the shallots in 4 or 6 pieces and add them as well.
Mix the vegetables with the oilve oil, a pinch of salt and black pepper and add them to the oven.
Roast all vegetables for about 40 minutes, while looking and stirring now and then.
In the meantime wash the lettuce, and cut it small. Peel the avocado and slice it as well.
When the farro is done, drain and let it rest for ten minutes under a closed lid.
When the roasted vegetables are nice and soft (enough) take all out and let it cool down for a minute or vife.
Than mix all veggies together with the farro and make the vinaigrette by mixing al the ingredients with a mixer.
Place the salad in nice bowls, add some goatcheese on top and sprinkle some pumkin seeds over it.
Bring to taste with salt and pepper if needed.
If you like you can roast the cleaned pumkin seeds you took out by roasting them in a small pan with a drop of olive oil on low heat until they begin to 'pop'. Mix them with a bit of salt when ready.
There you go! Happy Halloween! :-)