Organic Limoncello!
Everything tastes better homemade!
Living in Ibiza for just over a year now, we slowely but surely got to learn how nature (here) works. We were so lucky to find this amazing house in the calm and peaceful north of the island, where previous owners had put so much time and love into growing multiple fruit plants and trees on the porperty, over the years.
From abricot- to almond-trees and from pomegranate- to orange- and lemontrees. And they all have their own schedule for blossoming and growing their fruits or nuts. I had no clue almondtrees would develop these velvety soft green shells in which the nuts grow, after they have spread their white little blossoms all over the island. Something you should definately see by full moon, by the way! Or that our enormous figtree starts giving fruit, and lots of it, from august 'til oktober. Or, and yes -I did- planting new tomato plants in august, is not the right time to do so! Things to keep in mind for next year :-)
But with a garden like this we actually never have to buy our own fruits, because nature is just so sufficient. We even have too much of everything and we need to give a whole lot away to friends and family, or change it for something else they have in abundance.
Anyway, this story -of course- leads to the reason for me making, yes, organic limoncello. Alcohol!! Liqueur!! Because with all the above said, there is no reason NOT to do so! But of course, some grate organic lemons from your local store will do just as fine, and they give you just as much reason for making it, as well!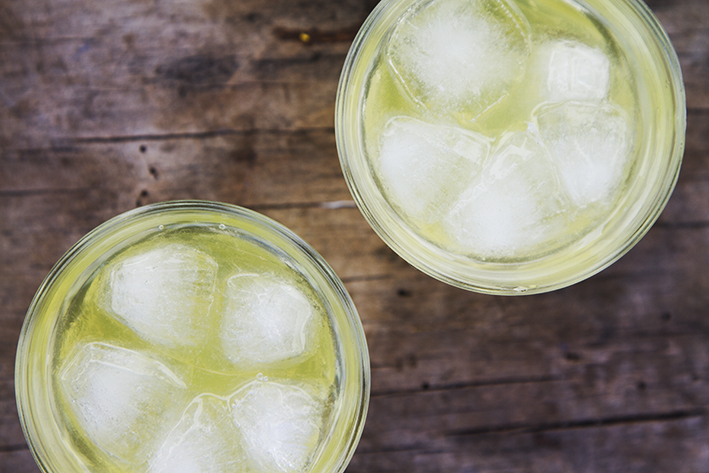 I didn't just come up with this recipe myself, (although it's one of the most simple ones) because, some time ago now, I received this great and complete package from the Dutch company www.likeurmeester.nl, which literally means 'master of liqueurs'. Well, they are. Masters. On their other site www.limoncello-maken.nl, 'making limoncello', they explain how to make this delicious aperitive, but also sell the complete packages for making your own limoncello, with beautiful bottles of glass and all the ingredients you need. Including fresh organic lemons! I took it with me to Ibiza, and finally made it myself. You really won't find better limoncello than the one you can bottle in your own kitchen. But also you can experiment with it, by adding additional ingredients, etc.
So there you go, wherever you are in the world, with this limoncello in your fridge it's always a little bit summer. Even when it's not, anymore.. ;-)
INGREDIENTS:
0,5 L alcohol (96%)
5 organic lemons
300 grams organic white sugar
0,8 L Water
INSTRUCTIONS:
Peel 5 lemons with a vegetable peeler. The y

ellow zest contains the essential oils that give your limoncello its fresh taste, the white is bitter.

The tastiest is to peel with minimal white but a little white can be nice if you like a little bitterness in your limoncello.

Combine the zest with the alcohol in a tightly closed (weck-) pot.

Put the pot in a dark place for 2 or 3 weeks. Just

occasionally shake the pot.

When it's time to actually make the limoncello,

make a syrup by dissolving 300 grams of sugar in a saucepan with boiling water.

When all the sugar is dissolved, cover the syrup to cool down to room temperature.

Strain the lemon peel from the alcohol solution and p

our the syrup and -now yellow- alcohol together.

You'll now see how the transparent yellow alcohol gets cloudy. This os called the 'ouzo-effect'.


Pour your limoncello in beautiful bottles (of course with your own labels), and put in a cool place.

Limoncello is best when it is freezing cold, just an hour or two in the freezer and it is perfect!

Salut!