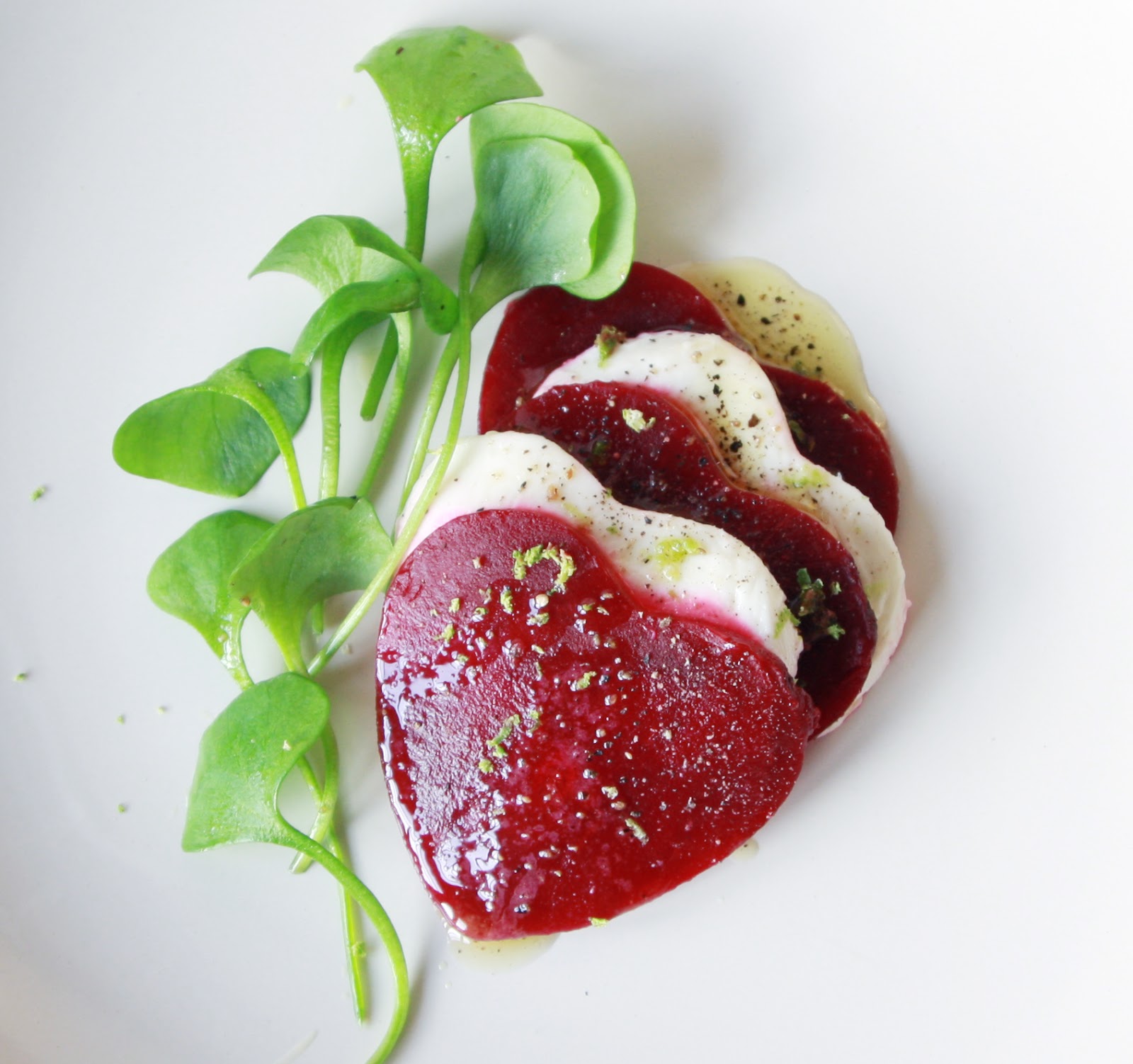 Happy Veggie Valentine's day!
Happy Veggie Valentine's day!
It's really not that i'm that fond of Valentine's Day. Really i'm not ;-)
But Juney (again!) wanted to bake a heart-shaped-chocolate-cake for school – don't ask me why- and so i thought it would be nice to spend the afternoon baking and making heart-shaped food.
This little appetizer looks gorgeous on your lovers plate and does taste great as well. The boiled sweet beets and contrasting mozzarella combine awesome with the sour juice and zest of lime, and the purslane is, surprisingly enough, a very tasteful veggie.
Not to heart to make!
Ingredients (for 2!)
2 large boiled (organically grown) beets
2 mozzarella's (or one if it's big enough)
1 handful of purslane
Zest of half a lime
0,5 tbs lime
2 tbs of extra virgin olive oil
0,5 tsp salt
freshly ground pepper
heart shaped form
Preperation
Cut the pre-cooked beets in thin slizes. Try to make them as large as possible so you can easily use your  form.
Do the same with the mozzarella's
Cut out your beet- and mozzarella slices with your heart shaped form and layer them on a plate. (3 layers of beet- and 2 of of mozzarella is enough per person)
Put the olive oil and lime juice together in a glass, add the salt and pepper, and stir well.
Drape the purslane around your hearts, sprinkle some zest of lemon on top en pour your vinaigrette over it.
Lovely!